 Monthly GLP-1™ Prescription is Now Available!
Program includes:
Assessment + Counseling + Prescription
Compounded Semaglutide as an alternative to Ozempic®and Wegovy®
Semaglutide  is dispensed under the brand names Wegovy®and Ozepmic®,  priced at $900 and as high as $2000 for a one month supply. Compounded semaglutide offers the same medication at a fraction of the cost with multiple advantages for the patient and provider.
Starting on semaglutide can be difficult for patients and frustrating for providers. Semaglutide indications include obesity. However, many insurance companies have strict guidelines on who is eligible, including BMI, and Diabetes unresponsive to commonly used Diabetes medications.
What is Compounded Medications?
Compounding pharmacies make medications from scratch, so they can tailor the dosage to the individual patient. These pharmacies are safe and regulated by the state Board of Pharmacy, and have frequent inspections for sterile processing.
A unique advantage to compounding pharmacies is the ability to combine medications for increased efficacy and patient tolerance.  Lolachi Institute offers semaglutide compounded with Vitamin B12. Vitamin B-12 is a vitamin that helps the body burn fat for energy and has been shown to increase your metabolism. Compounded semaglutide is significantly less expensive with a 1 month supply starting at $570.  This fee includes your medical visit, one on one counseling with Dr. Lolachi, and your 4 weekly Semaglutide injections.
1. Physician Consultation
A Board Certified doctor will review your Body Composition analysis, Medical history, and create your weight loss plan with prescription medication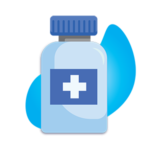 Get your personalized dose of medications and weight loss plan. Along with guidance of lifestyle changes from Dr Lolachi, your transformation begins.
We are the only program that includes monthly doctor visits and in person lab results review, to see how your health is improving.
Medical weight loss: scientifically proven – radically simple
Almost 30 years as a Board Certified Doctor… 
And I've Boiled Down All My Medical Experience, From Working With Thousands Of Patients Into This New Program.
Dr. Lolachi specializes in helping people who have a high BMI reduce weight rapidly and safely, so they can feel better and look better. 
Because getting healthy is the best feeling in the world.
Multi-approach is used for efficacy and sustainability. Feel the difference.
Call us at

310-371-9900

and ask about our exclusive specials only available by phone!
* We offer Care Credit financing *
We offer Care Credit 6 months 0% financing,
(6 month 0% financing for charges over $1,000,
or 24 & 36 months with interest.)
Starting Semaglutide
Getting started on semaglutide is very simple.  Patients have a consultation with Dr Lolachi, who is very familiar with semaglutide and various other weight loss medications as well as nutrition counseling. Patients weigh themselves at least once a week and have monthly visits. This allows us to keep patients on track with diet and exercise while optimizing weight loss with semaglutide.
If you have any questions or concerns about semaglutide, be sure to talk to Dr. Lolachi. She can help you weigh the risks and benefits of this medication and determine if it is right for you. And remember, always follow your healthcare provider's instructions when taking semaglutide or any other medication.
If you are interested in learning more about semaglutide or other weight loss medications, contact us by phone or email. Don't wait any longer to start your weight loss. And with easy dosing options and monthly visits, getting started has never been easier. Contact us today to learn more! Have questions? Call us at (310)371-9900.
Have busy schedule?
Discuss with Dr Lolachi on long-term prescription and maintenance to minimize your need for clinic visit.
Other Weight Loss Programs: